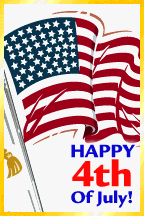 Today is the fourth of July and the United State's 232 years' celebration of Independence Day from the Kingdom of Great Britain. Independence Day in the U.S. is also viewed as a Summer Festival because of grand celebrations usually associated with fireworks, parades, barbecue parties, picnics, baseball games, carnivals and many other events organized bypublic and private organizations

(Wikipedea)

. Along with America's commemoration of Independence, today is also the Philippine-American Friendship Day in the Philippines. This is to revive friendship and camaraderie from among and between Americans and Filipinos all over the world. Through this celebration, a closer tie is expected between Filipinos and Americans. Both countries share the same love for freedom. A lot of scenic, historic and frequently visited spots in the country became the silent testimonies to the strong ties between the Philippines and the US. These are Red Beach, White Beach, Blue Beach, Yellow Beach, and Corregidor just to name a few.
Paying these tourist spots a visit will bring back history on how the US was able to save the Philippines from Spain's colonization paving the way to the country's own independence. I am heartily greeting everyone in the US a Happy Independence especially those Filipinos that are now residing at Uncle Sam's Kingdom.
View blog reactions