Wednesday What It's All About-
My Prince informed me that there was a huge dust storm in Sydney today. He described it like an Armageddon where the skylight had that reddish/ orange glow. He further told me that the last time they had it was in the 1930's. He wasn't even born yet!
Had I been there, he could envision me coughing and gasping for breath! He said I could even get confined at a hospital because he knew I got asthma and he was just too aware how the dust could worsen my condition. I could play smart though, he said, if I won't report for work, just stay at home and wear a mask so as not to experience breathing difficulties.
My Prince still reported for work today but protected himself by staying inside of the work premises.
I didn't know it was that worst not until I've read online what he told me.
"Dust clouds

blowing east from Australia's dry interior — parched even further by the worst drought on record — covered dozens of towns and cities in two states as

strong winds

snatched up tons of topsoil, threw it high into the sky and carried it hundreds of miles (kilometers).




International flights were diverted from Sydney to other cities — three from

New Zealand

were turned around altogether — and domestic schedules were thrown into chaos as operations at Sydney Airport were curtailed by unsafe visibility levels. Passenger ferries on the city's famous harbor were also stopped for several hours for safety reasons." (Source

Yahoo

)
The last time I've heard of Mother Nature's blow at Sydney was the hailstorm last year and it caused some damages to lives and properties of residents including My Sayang's car.
I am just too glad this time my Prince, Mummy Carol and Buzzy were unharmed.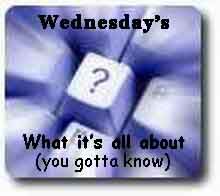 You're invited to join Wednesday's What it's all about Please grab this code at

[[ WmotH ]] Wednesday's What it's all about link is only meant for Wednesday's What it's all about participants
Wednesday's What it's all about link is only meant for Wednesday's What it's all about participants. If you are not joining Wednesday's What it's all about with your own Post but register a non-Meme Post here, a dishonest link will be deleted. Sorry, but that's how the Meme Rule works.
Please enter the your Wednesday's What it's all about Post URL by clicking on Master Linky Banner below


View blog reactions