My cousin Michelle a.k.a Mystique of
Mystique's Moments
had slowly learned the ropes of blogging a couple of months back.Being physically apart for years now, blogging sure paved the way for us to bridge the gap between distance and separation.
As cousins, we basically had the same inclinations towards family, beliefs, religion and other sort of stuffs which made up the totality of our own personas.
Mystique and I practically grew up together. When we were growing up, we used to share almost the same dreams. But as persons, we were somehow of extreme personalities which made each of us unique. Mystique is the extrovert type; I am not. In so many ways, we have been different but still share the same likeness in a lot of things.
Each individual have different lives to live. We've tread on different paths. She had to spread her wings and had to leave her family behind in the province to reach her own dreams. This is somewhat of a sacrifice but on the other hand, independence was rightfully learned and earned.
A lot of milestones and family celebrations were missed. Her birthday is one of those occasions wherein I would want to celebrate life with her. But since we are separated by distance, my physical presence wouldn't be possible.
Thank God blogs were invented! At least, I still would be able to uniquely celebrate with her on this special occasion.
Today, I am sending you my warm wishes and I pray for the fulfillment of your dreams and aspirations. May you continue to grow steadfast in your faith and continue to grow in God's loving grace!
HAPPY, HAPPY BIRTHDAY!
Miss yah and love yah!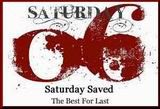 You're invited to join Saturday Saved – The Best For Last. Showcase the Post you prefer for more readership. Grab this code at [[ WmotH ]] Saturday Saved-The Best For Last is meant for Saturday Saved participants only
Please enter your Saturday Saved Post URL by clicking on Master Linky Banner below.


See Link Below:
View blog reactions