I was in the process of coming up to speed with my return to blogging. As such, I have been here - hanging in despite my laziness to update my blogs. The effort that I attempt requires me to do it once a week and that I dare say is already an accomplishment. I have become rather lethargic while sitting in front of the PC. It is a real struggle. Although there isn't much to update my biorhythm has not been at its best. I have succumbed to procrastination and this lethargic feeling has taken a toll on me.
One of the things that made me decide to quit blogging was for health reasons. There! After I got out of the hospital in June, I never really felt healthy. And my hands made it very difficult for me to do things in front of the PC. I will talk about this on a separate post.
On Wednesday, I felt like I was going to get sick. I protected myself too late by drinking lots of fluids. On Thursday, my body was feeling too heavy and the fever made simple things all the more difficult. On Friday, I already looked a battered and bruised front line soldier. LOL! But even then I still reported for work despite suffering body shivers. By then, I felt too weak and I looked so pale. I decided to go home.
Then again, who wouldn't get sick? My two brothers and my mother were all down with flu. Also, some peeps at work were sick for weeks already.
My apologies if I can't return all your drops and visits for the time being. As it is right now, I am still struggling with my health condition even to get this Post done. But I promise to make it up once I am able to do so.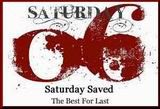 You're invited to join Saturday Saved – The Best For Last. Please grab this code at [[ WmotH ]] Saturday Saved-The Best For Last link is meant for Saturday Saved participants only
Please enter the your Saturday Saved Post URL by clicking on Master Linky Banner below.


P O L L Y!
First commenter for this post...
View blog reactions