I got curious as to how my personality would fare in this particular test which was thrown my way by Star of
The Maiden's Testimony
. Oh well, it has been a long time since I did some tests of this kind. I told myself, it wouldn't hurt to try... for fun.
And you bet! I had so much fun!
Some items in the test results may hold true but it does not conjure up the totality of my own persona. It was merely conincidental.
Here's the result:
You are intelligent, honest and sweet. You are friendly to everybody and don't like conflict. Because you're so cheerful and fun people are naturally attracted to you and like to talk to you.
The type of girlfriend/boyfriend you are looking for:
You like serious, smart and determined people. You don't judge a book by its cover, so good-looking people aren't necessarily your style. This makes you an attractive person in many people's eyes.
Your readiness to commit to a relationship:
You are ready to commit as soon as you meet the right person. And you believe you will pretty much know as soon as you might that person.
The seriousness of your love:
Your have very sensible tactics when approaching the opposite sex. In many ways people find your straightforwardness attractive, so you will find yourself with plenty of dates.
(huh?!)
Your views on education
Education is very important in life. You want to study hard and learn as much as you can.
The right job for you:
You're a practical person and will choose a secure job with a steady income. Knowing what you like to do is important. Find a regular job doing just that and you'll be set for life.
How do you view success:
You are confident that you will be successful in your chosen career and nothing will stop you from trying.
What are you most afraid of:
You are afraid of things that you cannot control. Sometimes you show your anger to cover up how you feel.
Who is your true self:
You are mature, reasonable, honest and give good advice. People ask for your comments on all sorts of different issues. Sometimes you might find yourself in a dilemma when trapped with a problem, which your heart rather than your head needs to solve.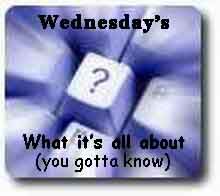 You're invited to join Wednesday's What it's all about Please grab this code at

[[ WmotH ]] Wednesday's What it's all about link is only meant for Wednesday's What it's all about participants
Wednesday's What it's all about link is only meant for Wednesday's What it's all about participants. If you are not joining Wednesday's What it's all about with your own Post but register a non-Meme Post here, a dishonest link will be deleted. Sorry, but that's how the Meme Rule works.
Please enter the your Wednesday's What it's all about Post URL by clicking on Master Linky Banner below


R E C E L!
First commenter for this post...
View blog reactions