Wednesday's What It's All About-
Today is another milestone for me and my Prince. Thirty two months ago, I consented to be a girlfriend to the man whom I love dearly. Though circumstances were entirely difficult because of the things that we had to hurdle, we vowed to make this relationship work until the time that we can be physically together.
My Guapo Prince made my day when he sent me a terse but very meaningful email:
Being into a relationship that is separated by distance is never a walk in the park. It's like death in slow motion. The agony of waiting and the agony of being far from each other's arms is making it all the more difficult. But my Prince and I are both aware that it will all be worth the wait. We all have our own time and God's time is perfect.
We have been praying for patience. We both believe that patience is a virtue and it requires a lot of waiting... We both often remind each other: "The greater the sacrifice, the sweeter the prize!"
My life has been blessed with so much when my Prince came into my life. I feel grateful to the Father when My Prince Scotty allowed me to feel the warmth of his love across the great distance that separates us. For 32 months, our love for each other never wavered nor faltered at all. I thank my Sayang for being always there for me, for putting up with all my flaws and imperfections, for taking me through the hardest times. Despite the time that distance brings, or life's little quirks and all other things, I know we have nothing to fear, because we have a Living God who has always been there since Day 1 and He will continue to watch our backs as long as we both entrust everything to Him.
My Prince sporting my anniversary gift bearing the text: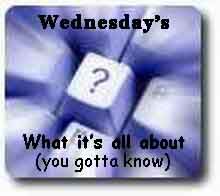 You're invited to join Wednesday's What it's all about Please grab this code at

[[ WmotH ]] Wednesday's What it's all about link is only meant for Wednesday's What it's all about participants
Wednesday's What it's all about link is only meant for Wednesday's What it's all about participants. If you are not joining Wednesday's What it's all about with your own Post but register a non-Meme Post here, a dishonest link will be deleted. Sorry, but that's how the Meme Rule works.
Please enter the your Wednesday's What it's all about Post URL by clicking on Master Linky Banner below


View blog reactions