Wednesday What It's All About (You Gotta Know) # 4
I started a joke... which started the whole world cryingggggggggggggg!!!! :D :D
Yesterday, Star of
A Maiden's Testimony played a joke on me when I went home for lunch. I was on my way back to work when I received her SMS.
Here's the thread of conversation via SMS:
Star: Do you know PAL's (Philippine Airlines) telehone number?
Lainy: No, I don't. Better look it up in the directory. I am on my way back to the office.
Star: Oh ok. I am going to book myself a flight for Manila. I will meet JT!
Lainy: Huh? Really Ate V? (I call her Ate Vilma)... Why so sudden?
Star: YES! We will be off for a holiday to Hongkong. Do you think the Boss will permit me to?
Lainy: Hmmm, for how long will you be gone?
Star: One week.
At that juncture, I had already reached the premises of our workplace. I was outside of the EO's Office so she didn't see me. She was still sending messages.I decided to see her inside the EO's office and there there were, they were all laughing at me! She isn't going anywhere! It will be the Boss who shall be travelling for official business. The trick was played on me to get even because our Blogpal
Windy once impersonated to be JT and phoned Star from Malaysia, LOL!
When I got home in the afternoon, I informed Windy about the fun the Office Staff had played at my expense. The brilliant Windy then suggested some charades to get even, LOL! You can read
The Tale of Two Sillies for the comprehensive details. That's where this joke started out.
I became the most convincing accomplice ever! Hahaha! I almost can't believe it when Star took it all, hook, line and sinker! We were corresponding via SMS last night and every detail was transmitted to her. She was more than willing to adopt Windy's baby! The baby shall be named Vincent. Would you believe it? At work today, Star even asked the Boss about the adoption procedures! Thanks to Aem, one of the accomplices, for constantly reminding Star to ask the Boss, LOL!
To make things even more convincing, Windy asked me to inform Star of his adoption terms and conditions , to wit:
Must breastfeed Vincent.

Vincent must not be circumcised.

Vincent must not be taught to eat Windy's feared "

balut"

Must be allowed to socialize with school girls

Must be treated as Philippines' future President potential
Star agreed with all the above terms and conditions except for Term #1. She told me, which I then relayed to Windy, that she's old and doesn't have any milk, LOL! I thought that would give me away and she will tell me to go to hell, hahahaha! But then, it really didn't cross her mind that we were playing a charade.
Today was even funnier at work. I was talking about something but Star wants us to discuss about Windy and the soon-to-be-adopted son Vincent. Her entire family was very excited! She really believed everything's for real!
The charade was almost over when Star went online to discuss matters with the man of the hour. She wants to make things clear and be sure that Windy and the girl won't change their minds once they see the baby. That's when Windy instructed Star to go read his post for Wednesday What It's All About (You Gotta Know).
And Star was laughing her heart out, tears were streaming down her cheeks, hahaha! In between the laughter, Star was able to say her huge thanks to Windy for giving her the Golden Heart Award ;-)
I am all hats off to you, Ate Vi! Not only for having the heart of a great Mom but for also being a good sport!
Now meet the major characters in this plot:
That's Baby Vincent!
That's Star sitting beside me. The one and only Golden Heart Awardee...
.... and the brilliant Mastermind- Windy!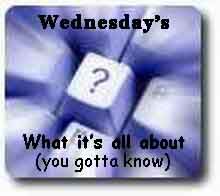 You're invited to join
Wednesday's What it's all about
Please grab this code at

[[ WmotH ]]
Wednesday's What it's all about link is only meant for Wednesday's What it's all about participants
Wednesday's What it's all about link is only meant for Wednesday's What it's all about participants.
View blog reactions