Saturday Saved- The Best for Last # 3
I haven't joined any contests recently. But now, I'd like to officially announce my participation in Jackie's
EntreCard Contest at The Painted Veil.
Jackie a.k.a. Shinade has been a very good blogpal of mine and I felt ecstatic when I learned she came up with this wonderful contest.
One might probably ask: What made you decide to join?
Well, there are several reasons but for the sake of satisfying your curiosity, perhaps a spontaneous explanation will suffice:
My blog qualifies for the Jackie's Contest because it is PG rated by EntreCard.(I would like to think so, LOL!). It's one of the criteria.
I want my blog to be given a chance to be flaunted with a PR4 blog like The Painted Veil and with a lofty popularity rating at EntreCard
I want to earn a few credits for a prize.
Aside from being a real good friend of mine, Jackie is a respectable blogger and her integrity in holding contests can never be questioned.
There! I hope the four major reasons for joining the contest could somehow encourage you to participate as well.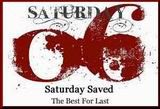 You're invited to join Saturday Saved – The Best For Last. Please grab this code at

[[ WmotH ]] Saturday Saved-The Best For Last link is meant for Saturday Saved participants only
Saturday Saved link is only meant for Saturday Saved participants. If you are not joining Saturday Saved with your own Post but register a non-Meme Post here, a dishonest link will be deleted. Sorry, but that's how the Meme Rule works.
Please enter the your Saturday Saved Post URL by clicking on Master Linky Banner below.


B I L L!
First commenter for this post...
View blog reactions