Saturday-Saved the Best for Last # 4
Today has been a long day for me. I had an appointment with my new dentist. Lucky me! I've found a better one. It took me a month of waiting before I was finally able to make an appointment with her. I had my regular teeth clean-up and she recommended to have my fillings changed.
Geez! that visit lasted a four long hours! I want to save a tooth which required a lot of work. I opted for root canal. I have been procrastinating about my teeth care. I should have made this my priority but as it is with most things needed, I just couldn't find the time to visit the Dentist. The cost for the root canal itself left me stupefied. Oh boy! I did not realize that saving a tooth could be that costly!
The dentist gave me a good discount price though. Instead of charging me up for 4 canals, she only charged me with 3. I think it's a good deal considering that it's my first time being treated by her!
The Dentist was about to inject some anesthesia when I stopped her immediately and told her that I feel OK. The pain was actually tolerable. I was proud of myself for I was able to bear the pain and the discomfort. The dentist was even prouder and exclaimed:
"Are you sure you are OK? WOW! You're such a strong girl!"
Well, the spike in my blood pressure after the session would tell you that I wasn't OK. LOL! I was tensed. Blood pressure was at 140/ 120. Oh well! I can imagine the look of surprise on the attendant's face. I pacified her by letting her know that I am really fine...
Anyways, I will be back there for a couple more sessions. I am set for another appointment come Thursday.
Sigh!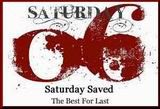 You're invited to join Saturday Saved – The Best For Last. Please grab this code at

[[ WmotH ]] Saturday Saved-The Best For Last link is meant for Saturday Saved participants only
Saturday Saved link is only meant for Saturday Saved participants. If you are not joining Saturday Saved with your own Post but register a non-Meme Post here, a dishonest link will be deleted. Sorry, but that's how the Meme Rule works.
Please enter the your Saturday Saved Post URL by clicking on Master Linky Banner below.


View blog reactions