Saturday-Saved The Best For Last #5
This has been posted
on my own blog
but just so other friends of Lainy knows, our dear cousin
Michelle
got engaged with her long time first boyfriend
Jon
last month. The wedding take place next year. They haven't decided on which month yet.
I wasn't there to witness the cheezy proposal but here are some of the photos.
Congratulations!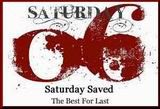 You're invited to join Saturday Saved – The Best For Last. Please grab this code at

[[ WmotH ]] Saturday Saved-The Best For Last link is meant for Saturday Saved participants only
Saturday Saved link is only meant for Saturday Saved participants. If you are not joining Saturday Saved with your own Post but register a non-Meme Post here, a dishonest link will be deleted. Sorry, but that's how the Meme Rule works.
Please enter the your Saturday Saved Post URL by clicking on Master Linky Banner below.


View blog reactions